Looking to boost revenue and leads? SEO for law firms is essential if you want to catapult your business to the next level! At MeanPug, we thrive on real-world results for our clients and always allow data to dictate our strategy. Let us maximize your firm's visibility by leveraging our unique blend of SEO expertise with our deep knowledge of the legal sphere.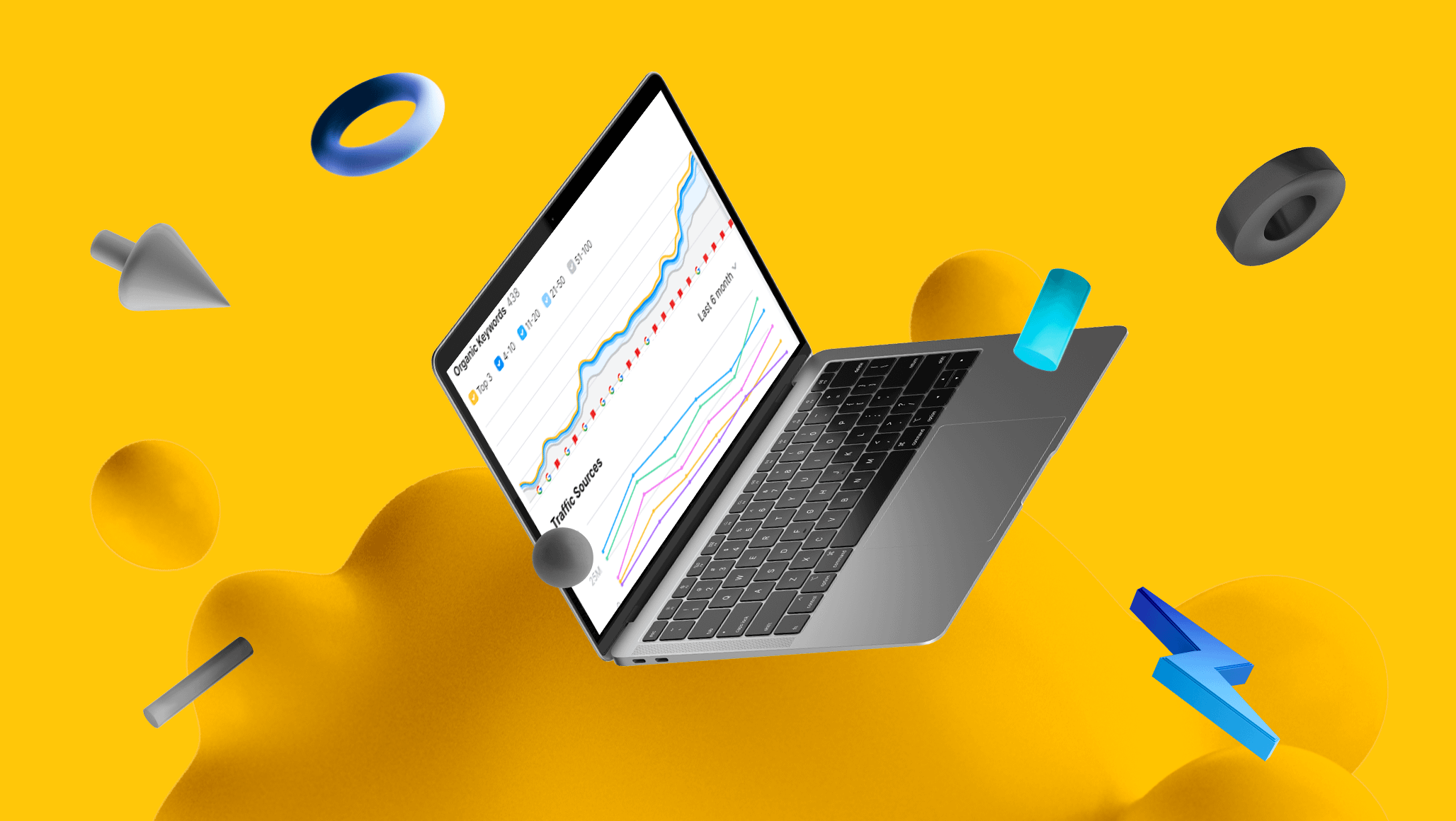 SEO Case Studies
Unranked to Top Dog, Voila
Does SEO Work for Law Firms?
According to the Clio article on law firm SEO, SEO is the 2nd most commonly used medium for leads to discover your law firm.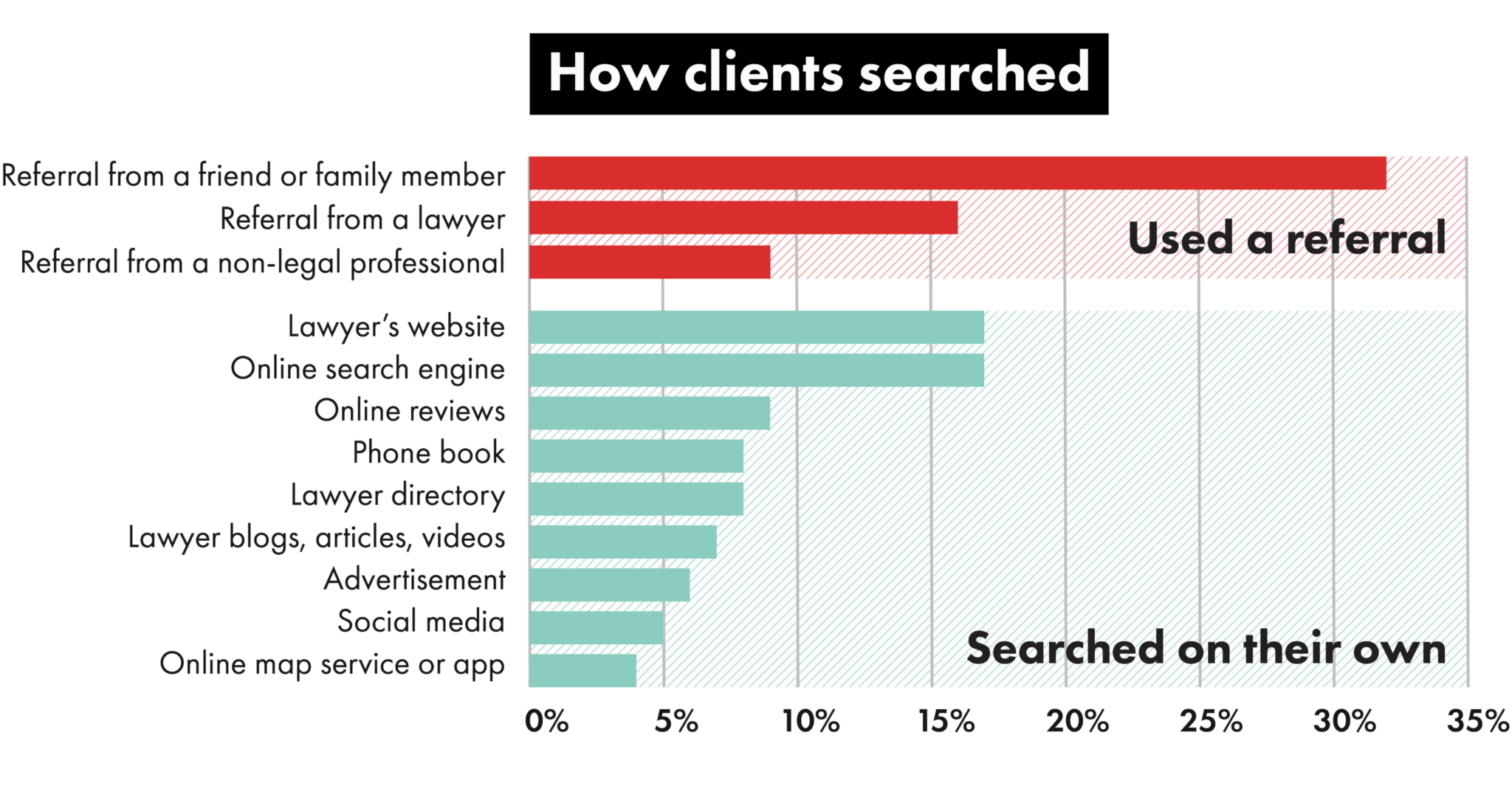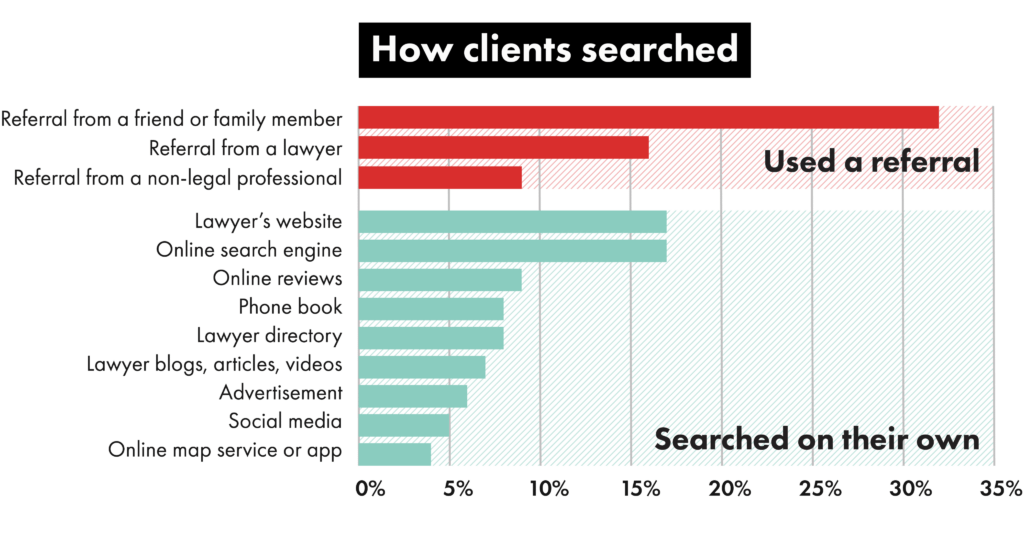 Unlike PPC or other forms of paid digital marketing, SEO should be thought of as a long-term investment. If you are looking for significant movement in the short-term (i.e. less than 3 months), SEO probably won't be the right outlet for you. However, over the long-run SEO will usually drive the best unit economics and – unlike paid media – will continue to drive returns even after you stop spending money on it.
So yes SEO works for law firms – especially when bucketed with local SEO strategies – but it shouldn't be the only tool in your tool belt when considering the problem of generating qualified leads for your law firm.
Benefits of SEO for Law Firms
To reach the largest group of potential clients, it's critical that your law firm's website has relevant and optimized content that addresses readers unique problems, questions, and areas of interest. At MeanPug, we take the time to understand your audience; creating content that speaks directly to the heart of their concerns while also appealing to Google's ever-changing algorithms. 
To understand why law firm SEO is so important, let's break down some of the many ways in which SEO can benefit your website and business.
Increased traffic to your website
Increased leads and revenue
Enhanced brand credibility
Increased visibility and rankings
Improved user experience
A marketing channel that experiences long-term growth

Hiring a Law Firm SEO Agency: Things You Need to Know
Hiring a law firm SEO agency can be a daunting task! With so many self-proclaimed experts in the field, how can you tell who is truly capable of delivering the results you want? At MeanPug, we provide full transparency when it comes to our past clients and their SEO success. Whether you'd like to boost organic traffic, increase conversion rates, or create high-ranking content that resonates with potential clients, we've got you covered, and we have the data to back it up.
We offer a full range of legal SEO services spanning local, technical, on-page, and off-page initiatives, all implemented with your firm's specific needs and goals in mind. 
Law Firm SEO Agency Red Flags
To help you navigate the process of hiring a law firm SEO company, we've outlined some red flags you'll want to avoid. Not all SEO is created equal, and it's important to understand what differentiates quality work from subpar or dangerous methods. 
Promises fast results: Effective white hat SEO strategies take time to work. On average, it takes around 4-6 months to see noticeable results from your SEO initiatives and can sometimes take longer if your website is new, or has low domain authority. While it's understandable to want to see quick results, SEO is a growth-over-time strategy. Any agency promising to get your law firm fast SEO wins is likely just looking to make money, and may even be using harmful black hat strategies that can destroy your entire sites' reputation! While SEO may take time to deliver, it is an absolutely essential component of any successful digital marketing strategy.
Promises permanent ranking:

In an effort to draw in and appease clients, some legal SEO agencies will make bold promises when it comes to their ranking capabilities. This is a huge red flag when it comes to bad SEO agencies! While keyword ranking is an important component of SEO, it is impossible to guarantee a permanent spot on the search engine results page. Between Google's algorithm updates and competitor content, rankings are constantly shifting. Achieving continuous high ranking requires regular maintenance to compensate for these unavoidable occurrences. 

Participates in link schemes:

Building a strong backlink profile is a key component when it comes to SEO, but it's important to do it the right way. Any legal SEO agency whose backlink strategy involves purchasing low-quality links on unrelated websites is either inexperienced or has no qualms about potentially destroying your site. Google is constantly on the lookout for link schemes and harshly punishes violators. If a violation is considered severe enough, Google can even remove your site from its index – meaning that none of your content will be displayed on Google's search engine results page! Seeing as this is an absolute worst-case scenario for your site, we highly suggest you avoid any SEO agency that uses this approach. 

Unfamiliar with the legal space:

To set your law firm up for success, you'll want to make sure your law firm's SEO specialist understands the legal space. A large part of the SEO industry revolves around content creation and therefore requires extensive knowledge and understanding of legal topics, key terms, and concepts. Hiring an agency that has extensive experience within the legal industry aids SEO by ensuring that all content produced is accurate, speaks to the right audience in the right way, and is designed with educated conversion insights in mind. 

Secrecy surrounding process:

 At MeanPug, we're more than happy to walk you through our general SEO process and we firmly believe in the importance of transparency when it comes to our methods. If your agencies law firm SEO expert is not willing to be transparent with their processes, chances are they are using black hat tactics that could result in drastic consequences for your website.

Claims to have an inside contact at Google: If an SEO agency tells you they have special insider information about Google algorithms – you should probably run! While we can't guarantee that it has never happened before, it is highly unlikely that a Google employee would knowingly risk their job to hand out trade secrets, and even less likely that the agency you're speaking with happens to be trusted with this kind of protected information. You should also steer clear of companies that market themselves as a "Google-Partnered SEO agency", as this has been firmly debunked by Google. In the words of Google's Search Advocate John Mueller, the idea that an agency could be an SEO "partner" and privy to inside information is "completely wrong". 
Focuses on one-time fixes instead of continued maintenance:

Any law firm SEO expert understands that it takes continual website maintenance to preserve rankings. While a one-time effort can help your law firm grab the #1 spot on Google, without necessary updates to the page there is no guarantee that your content will remain #1. Two of the biggest factors in rank fluctuation are competition and algorithm updates. So, if Google creates a new ranking signal, or your competitor creates a stronger piece of content, you can expect that you'll need to make adjustments to your site in order to compete. These inevitable ranking fluctuations are why SEO strategies need to account for regular maintenance of your site. If an agency is not prepared to make continuous updates based on competition and Google insights, it's unlikely that you'll achieve the results you want. 

Provides cheap services: If you're searching for an experienced and efficient law firm SEO agency, you won't find one for cheap! Two of the most important factors when it comes to law firm SEO are backlinks and high-quality content, both of which take a considerable amount of time and capital to implement. Earning quality links and producing optimized, engaging, and relevant content for your law firm are labor-intensive endeavors. When SEO companies for law firms produce content for cheap, they are typically scraping existing content and reconfiguring it into a "new" post. As you can imagine, this is a nightmare when it comes to niche legal content and SEO. Grammatical errors, inaccurate information, and lack of quality are just a few of the issues you'll run into with services like this. Like all facets of SEO, quality backlinks also take time and effort to garner. Any agency offering cheap link-building packages is certain to disappoint with irrelevant and low-quality backlinks that do nothing to move the needle and may even harm your site in the long run. 
Even more red flags to watch out for
While that list of red flags includes some concrete signs to look out for, there are more conceptual flags that tend to pop up during the initial proposal process. The video below dives into some of these you might encounter while searching for the right SEO company for your law firm.
What Can the Right SEO Agency Do for Your Law Firm?
At MeanPug, we're passionate about SEO and we love to win! We've worked with some of the biggest plaintiff firms nationwide and have helped them generate billions of dollars in case value. We're well equipped to handle all facets of your law firm's SEO needs with meticulous attention to detail and a deep understanding of the tactics that work.
We understand that partnering with the right SEO agency can be an absolute game-changer for your business! From increased revenue and leads to boosted organic traffic and visibility, an experienced legal SEO agency can take your firm to new heights. While it may take time to see results from SEO strategies, it is absolutely worth the wait, as it's impossible to compete without them. One of the biggest benefits of SEO is that it is a marketing channel that grows over time, making it an important investment in securing your firm's future success. By hiring an experienced law firm SEO agency with a proven track record in the space, you're setting your firm up for consistent growth and increased revenue.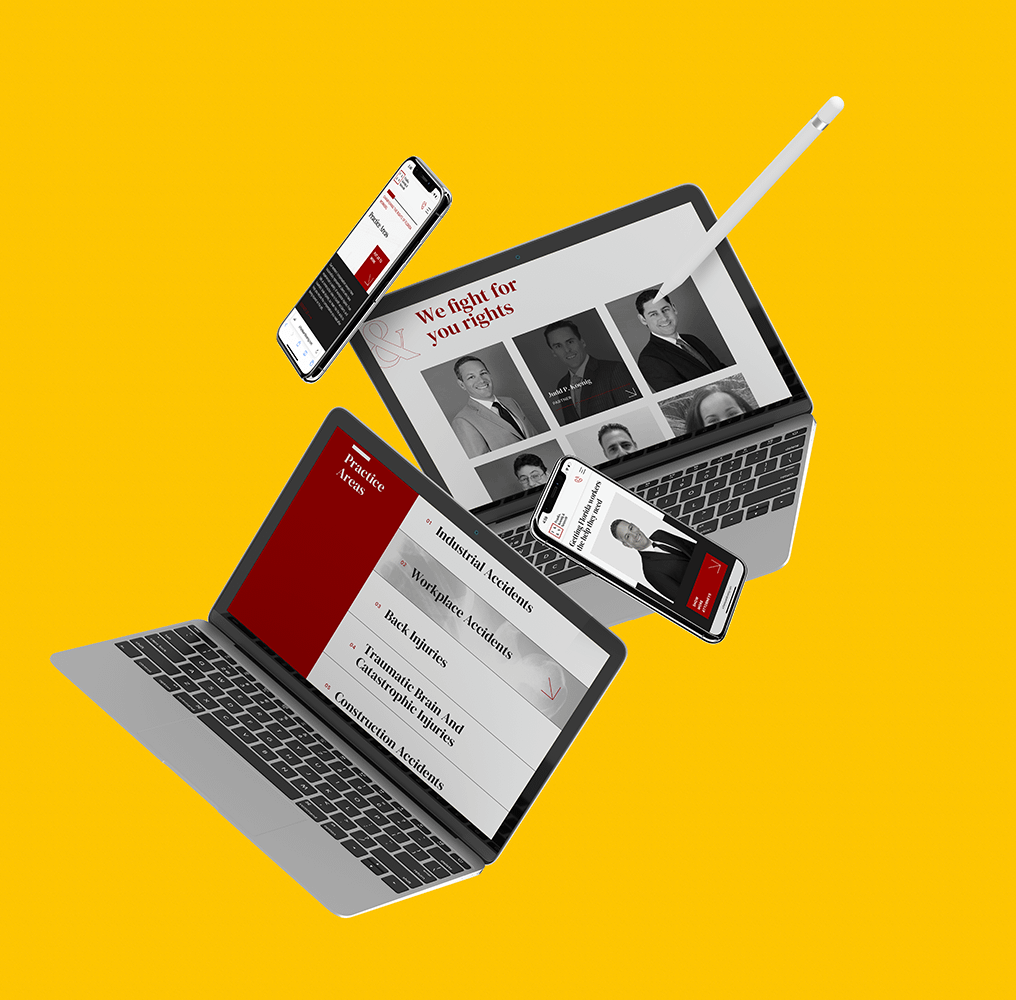 …Working with MeanPug was an absolute delight, and I am thrilled with the final outcome. Their exceptional team of professionals demonstrated a genuine commitment to my project's success, and the results speak for themselves. I highly recommend them to anyone seeking outstanding web design services. They are the epitome of excellence in the industry! Highly satisfied, Pedro "Peter" de la Cerda

After just a couple calls with the MeanPug team I knew I was in the right place. They pitched out of the box ideas and strategies which were refreshing. They stayed in constant contact throughout the buildout and, just as important, stayed on track with timeline and budget. The quality of my site build exceeded expectations. I'm extremely happy with our partnership and would highly recommend Meapug.

CarAccident.Law Case Study
MeanPug SEO Services for Law Firms
Local SEO: When a Google user in your area searches for a lawyer, it's important that your law firm pops up in the top search engine results. To help you compete in your immediate area, MeanPug offers local SEO services for law firms designed to maximize your online presence in the places that matter most. From Google My Business optimization to localized practice area pages and in-depth local rank tracking, we are equipped to cover all aspects of your local SEO strategy and gain your firm the visibility it deserves.
On-Page SEO: At MeanPug we believe that high-quality content is king when it comes to SEO success. This is why we pride ourselves on creating comprehensive, data-backed content designed to speak to your audience, meet Google's needs, and encourage conversion. Our on-page SEO initiatives cover a wide range of bases from optimized blog articles, headings, and metadata, to building out internal linking structure, and so much more. We're well-versed in creating SEO-friendly site architecture, performing in-depth keyword research, and pruning content so that you can see increased traffic, conversions, and cases.
Technical SEO:

This area of SEO deals with server and website optimizations that make it easier for Google to crawl and index your site. Working hand in hand with our development team, every client's site is fully audited for technical issues like speed, mobile-friendliness, duplicate content, coding issues, and much more. We can easily implement structured data, AMP pages, and any necessary technical updates you need to maximize your online performance. 

Off-Page SEO:

When you hear about backlink building, guest blogging, social media marketing, and

directory citations

, this is what is known as "off-page SEO", a division of SEO that tackles all beneficial ranking signals that occur off of your website. At MeanPug, we believe in organically building high-quality links over time, a strategy that has proven successful for our most prominent clients in the legal sphere, helping them to drastically increase their number of unique referring domains and backlinks, leading to higher rankings, increased traffic, and dramatic boosts in revenue and leads. 
Contact Us to Get Started with SEO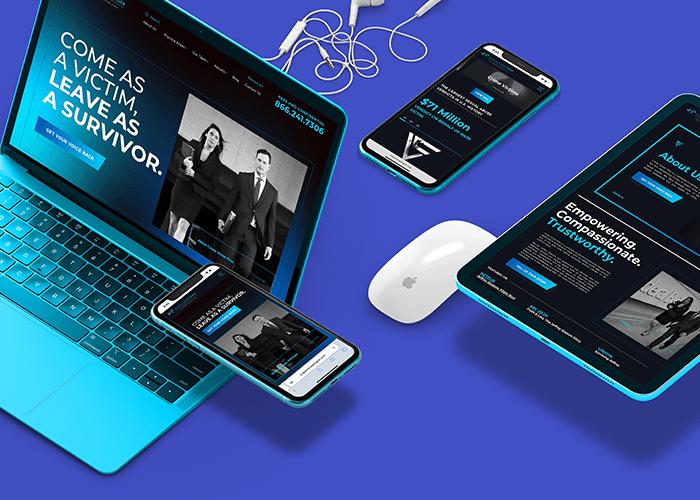 How does SEO for law firms work?
SEO stands for search engine optimization, which is a strategic process of making changes to your site that reflect SEO best practices and send the right signals to Google's algorithm. SEO encompasses different areas of focus like off-page, on-page, technical, and local optimization. The main objective of SEO is to increase leads and revenue. This is achieved by boosting a site's local and national presence, increasing its domain authority, backlinks, and traffic, and ensuring that the site is ranking well for its most important keywords.  
What is a good ROI for SEO?
While there is no industry standard for SEO ROI, a good rule of thumb is the 5:1 ratio where for every $1 spent, you should see $5 in return. Many people believe that the ultimate goal of SEO is to drive traffic, but in actuality, the end goal is increasing conversions and boosting revenue. While SEO will ultimately result in growth for your law firm, results do take time. This is why ROI is typically calculated after 4-6 months when optimization starts to garner tangible results. 
How long does law firm SEO take to work?
SEO is a continuous process that takes time. Results from SEO strategies are typically seen within 3 months to as long as a year. How long it takes to see results will depend on many different factors such as the current health and structure of your site, the age and authority of your site, the quality of your content, and the number of backlinks your site possesses. Some SEO initiatives will take more time than others, but ultimately pay off big time in the long run. 
What are backlinks in SEO?
Backlinks are links placed on a website other than your own which link back to your site. When other websites link to your content this is viewed by Google as a signal of trustworthiness, almost like a digital voucher. The more trustworthy and relevant Google believes your content is, the faster it will rise to the top of the search results. This is why a key component in any successful SEO strategy involves backlink building. But, it's important to remember that not all backlinks are created equal! To find success with backlink building, it is imperative to earn links from high-quality legal relevant websites. Purchasing large amounts of backlinks from unrelated directories or blogs can really hurt your site and should be avoided at all costs. 
What are the most important keywords for law firms?
The best keywords for law firms are long-tail keywords and questions that address concerns potential clients may have after experiencing an event that requires a lawyer. While it is important to optimize your site for "head terms" like "New York personal injury lawyer" or "D.C. whistleblower attorney", oftentimes, these aren't the first terms a client will search for. For example, a person who has been sexually abused may first search Google for questions related to their state's statute of limitations, or look for helpful resources to help cope with psychological issues arising from the abuse. The same is often true for victims of violent crime, whistleblowers, injured persons, and various other groups of people in need of legal consultation.  While a vital part of our SEO strategy involves ranking locally for your various practice areas, we also want to ensure that we capture potential clients as early as possible in the funnel, providing them with helpful resources, and connecting them with top-notch legal representation. 
Is SEO for law firms worth it
?
Yes! SEO for law firms is absolutely worth it. As long as people use search engines to connect with services and seek information, SEO will always be a crucial element of your law firm's success. 
Why is MeanPug the Right SEO Agency for Your Law Firm?
We are responsible for some of the most successful marketing campaigns within the legal space, making us qualified experts in the field, and providing us with deep insights into legal SEO strategies that work. Our data-centered approach to SEO relies not only on audience insights, and best practices, but also works to address your law firm's specific needs and goals, taking into consideration every facet of your digital presence. 
If you're ready to level up your law firm and compete with the best, give us a call, or shoot us an email!  
Designers not only help ensure your collateral looks good and stands out to potential clients, they can also ensure everything you produce is as easily digestible and user-friendly as possible. Content layout and structure, for example, benefits from oversight by a designer. Infographics and similar design assets can also be used for backlink building and other SEO strategies.
Engineering builds data pipelines and integrations for connecting analysis tools (like Google Analytics) with ad performance and organic tracking metrics. Content and engineering develop highly relevant landing pages for PPC campaigns to increase relevancy score and clickthrough rate (thereby reducing auction cost and cost per acquisition).
Launching creative campaigns simultaneously across digital and traditional advertising ensures continuity in the user journey. Design initiates creative concepts, marketing creates appropriate content and landing pages for these concepts, and digital and traditional teams initiate technical buys around these campaigns.
If you launched a new digital and traditional advertising campaign and find that your phones are ringing off the hooks, your instant success will quickly turn into a nightmare. As the number of your intakes increase, it further strains your call center resources and operational infrastructure. That's why it's important to have a high-functioning CRM, automation where appropriate, trained personnel, and similar technical infrastructure in order to handle higher traffic.
Business Operations + Software Development
If your operations team and engineers aren't communicating with each other, things are likely to fall through the cracks and your firm is likely not as efficient as it could be. Integrating third party solutions—such as your website, ad platforms, and lead-gen services—with your CRM and tooling is a task for engineering.
Branding is responsible for the long-term vision and roadmap of a law firm's image. Traditional advertising picks up where these concepts leave off and execute buys around the creative collateral, negotiate rates, and track the performance of the buys across creative, placement, and format boundaries.
When launching a new website, it has to look good and be fully functional. Designers should sit side by side with the engineering team to ensure that a new web design follows UI/UX best practices and effectively communicates the law firm's brand. Engineers take your creative team's mocks and make them come alive.
As digital advertising teams generate intake volume, that volume must be pushed into the business' CRM in a way that facilitates a timely response. Operations will be responsible for creating processes and flows around these intake records in order to provide transparency and increase the probability for signing good cases, and turning down unqualified ones.
Copywriters work closely with digital advertising teams to create highly relevant, enticing messaging across multiple ad formats. Design takes this messaging and applies a layer of paint, resulting in a memorable digital ad. The advertising team then takes the final assets and executes technical buy, reports on results, and optimizes accordingly.
Copywriters work closely with traditional advertising teams to create highly relevant, enticing messaging across multiple ad formats. Designers play a key role in storyboarding, ensuring that the imagery and assets used are eye-catching. The traditional advertising team then takes the asset and executes technical buy, reports on results, and optimizes accordingly.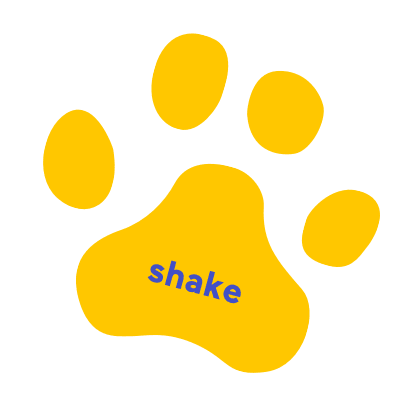 Contact Us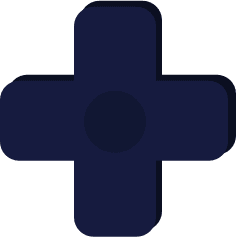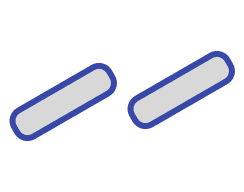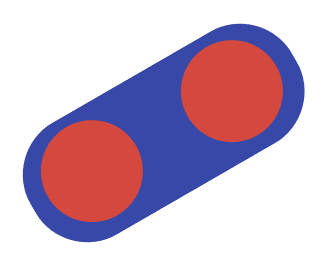 Time to Play
Not sure what you need? Take a quick quiz